WATERTIGHT
Safety-Shroud System
Watertight Receptacles, Plugs, Connector Bodies and Flanged Inlets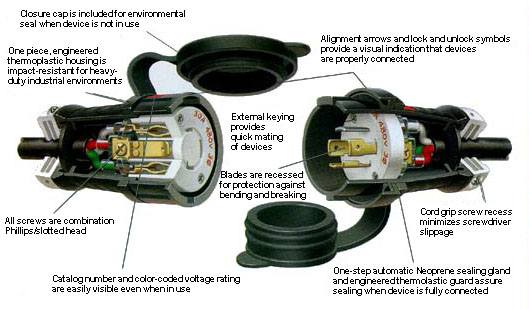 Here are some of the Watertight Safety Shroud's impressive features.
Universal Neoprene Diaphragm Seal

Accommodates a wide range of cord sizes.

---

Panel or Box Mount
Receptacles and Inlets

High impact, thermoplastic housing for heavy-duty industrial environments

Cat. number and color-coded voltage ratings are easily visible

Combination Phillips/slotted mounting screws

Mounting screw recesses minimize screwdriver slippage

Neoprene closure cap provided

Accepts all mating NEMA locking plugs

Spring-Loaded Cover

One step push-to-close spring-loaded cover with latch. Environmental sealing is assured.

---

Safety-Shroud

Virtually eliminates bent and broken plug blades.

Extends life of mating receptacles by eliminating damage caused by insertion of bent blades.

Reduces exposure to arcing when connecting or disconnecting plugs under load.

Extra protection for personnel by significantly reducing chance of contact with blades.

Sealing gland and thermoplastic guard assure sealing when fully connected.
The Watertight Safety-Shroud System.
The logical choice.
Take a look at INSULGRIP Plugs and Connectors.