New Products and Approvals Complement PAN-LUG Power and Grounding Connectors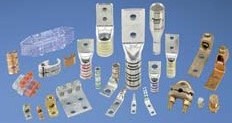 PANDUIT has recently released approximately 1,500 new copper compression products and received full agency approvals from the most stringent safety test labs. PAN-LUG copper compression lugs and splices are the first and only meeting NEBS Level 3 requirements as tested by Telcordia Technologies. NEBS Level 3 assures product performance is suitable for equipment applications that demand minimal service interruptions over the life span of the equipment. PAN-LUG Power Connectors meet and surpass the requirements of UL and CSA.
Numerous new product additions make the PAN-LUG Power and Grounding Connector line one of the most comprehensive in the industry. The innovative PAN-LUG Copper HTAP and Clear Cover System with slotted design reduces installation time and contributes to enhanced wire pullout performance; the snap-on clear cover allows 360° inspections of the crimped connection to assure the crimp is complete and the correct die was used. Other new PAN-LUG products include Copper In-Line Reducing Splices, Copper CTAPs, Lugs for #8 AWG – 777.7 kcmil Flex Wire, Lugs for #14 - #10 AWG Wire and Expanded Range for #4 AWG Lugs (#3 AWG Stranded and #2 AWG Solid).