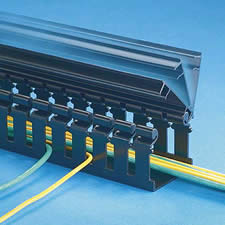 Hinged Wiring Duct is an innovative two-piece wide finger design wiring duct with dual-sided hinged cover to route and protect wires and cables in electrical control panels and data communications applications. It's unique hinging cover can be released and opened up to 100° from either side of the duct or be removed completely for installation and maintenance. The cover snaps and locks closed on the base and will not slide when in the vertical position or during vibration.
Designed for Wire Management Applications Where:
Frequent moves, adds, changes or equipment upgrades require repeated, easy and quick access to duct channel.

Neatness and appearance are important such as in high visibility and high traffic areas.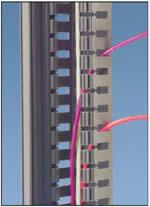 Type H Wiring Duct is ideal for applications that require easy access in control panels and communication closets for frequent equipment modifications or repairs where moves, ads and changes are common. Due to the hinging feature, Hinged Cover Slotted Wall Wiring Duct reduces the time and hassle associated with removing and reinstalling traditional duct cover to perform maintenance or changes. It also improves cabinet and panel appearance by reducing chance of covers being removed and then being misplaced or discarded.