TCLP Compliant
No Hazardous Waste Requirements In Most States
Safe and Reliable Lamp End-of-Life Shut Down
Direct Replacement For DULUX D/E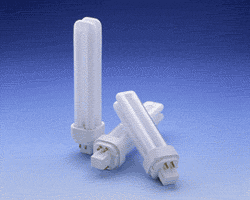 SYLVANIA has improved its DULUX D/E EOL 4-pin, compact fluorescent lamps, making them part of the growing ECOLOGIC family of lamps that are designed to satisfy the Federal Toxic Characteristic Leaching Procedure* (TCLP) criteria for classification as non-hazardous waste in most states.
DULUX D/E EOL lamps also have a built-in feature which safely shuts the lamp down at end-of-life. SYLVANIA is the only manufacturer to combine both of these features in their 4-pin compact fluorescent lamps.
NEMA** recommends that electronic ballasts for small diameter (T5 and smaller) lamps contain end-of-life (EOL) sensing circuitry to reliably shut down the system and avoid the rare possibility of abnormal lamp failure (bulb wall cracking near the base; lamp base or socket overheating or melting). DULUX D/E EOL lamps provide protection in existing fixtures containing ballasts without an EOL shutdown feature and are fully compatible with new ballasts that have EOL circuitry.