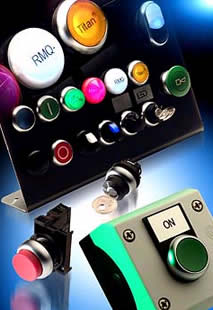 Part of Moeller's popular RMQ Titan family, which takes its name from the titanium-coloured front ring, is ergonomically designed with actuator elements specifically shaped to the curve of the fingertip. Titan is very competitively priced and provides a full and comprehensive range of device types including pushbuttons and selector switches, with or without illumination; key-operated actuators and emergency-stop switches. The new illuminated emergency-stop pushbutton can be used in conjunction with the new buzzer to further improve safety in the workplace.
In the development of RMQ Titan, particular attention was paid to achieving a consistent and uniform appearance throughout the range. The same external design features can thus be found on all front elements and also on the surface mounting enclosures. Even the customized laser inscription, being available even in very low quantities, helps to ensure a uniform appearance, and provides highest wear resistance and durability. Virtually any text or symbols can be inscribed.
In the illuminated devices, specially designed lenses in the indicator lights ensure optimum brightness. The replacement of filament bulbs with the latest LED technology reduces current consumption and heat dissipation while increasing resistance to vibration and greatly extending lifespan. At over 100,000 hours LEDs have significantly longer working lives than fragile bulbs yet cost no more.