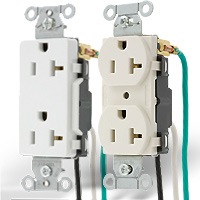 Hubbell Wiring Systems is pleased to announce a new line of Pre-wired Commercial Receptacles that offer faster installation, improved safety and less waste, saving significant overall project costs.
The perfect choice for contractors who assemble electrical components in advance, Hubbell's new Pre-wired Commercial Receptacles save approximately three minutes per device on installation, which can add up to significant labor hours. With 8-inch wire leads that install quickly and easily using wire nuts or push type connectors, these receptacles eliminate the need to create pigtails or terminate wires. The factory welded leads are insulated within the receptacle body so there are no exposed live terminals for improved safety.
"We're excited to offer yet another addition to our pre-fabricated line of devices that help control project costs," says Patrick Close, product manager for Hubbell Wiring Systems. "These pre-wired devices are also bulk-packaged, which further minimizes job site waste. In addition, customers that require anti-vibration terminations benefit from the factory-welded leads and the ground wire riveted to the device."
In keeping with Hubbell's commitment to quality, the Pre-Wired Commercial Receptacles feature an all nylon top and bottom, galvanized steel mounting strap, stainless steel auto-ground wire and brass contacts. Available with solid or stranded wire and in 15 or 20 Amp, 125 Volt NEMA configurations, the new Pre-Wire Commercial Receptacles come in six colors to fit any decor. They are also available in tamper-resistant and 6-inch lead designs to fit a variety of applications and requirements.
For more about visit our Information Request page