Wanna See Red?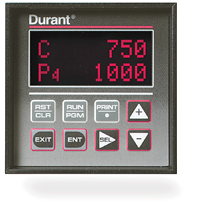 By adding a new member to the popular Ambassador Series family, Durant offers you a choice: traditional green LCD display or negative-image red display.
The Ambassador is a powerful, flexible product that can accommodate numerous applications. It includes an 8-decade totalizing counter, 6-decade 1/Tau rate indicator in single, dual or four-preset models.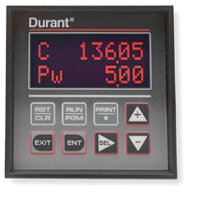 The new Ambassador Plus Feet/Inches control is now available. This product comes in two display versions: the traditional green LCD display and a negative image red LCD display. A fixed decimal point separates the feet from the inches on either display. Three presets, plus a floating pre-warn allow control of complex processes. The pre-warn adjusts itself to the final preset.