Multi I/O Units
D2 W MIO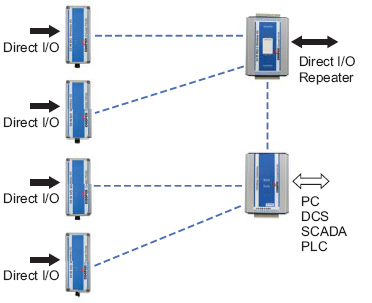 A transceiver is a wireless device made up of a transmitter and receiver. Since each module can manage both input and output signals, it can be used to monitor transducers and control industrial processes. This module can also be used as a repeater to relay another wireless device's transmission, thus increasing the overall range of the system.
Applications
Wireless junction box in a process plant to connect a large number of signals to other parts of the plant and to the plant control center
Simple Remote Terminal Unit (RTU) in a SCADA system, connecting sensors/instrumentation/process signals in pump stations, sub-stations, pipeline regulator stations, etc.
Machine-2-Machine wireless connectivity in factories
Features
Class I, Division 2 hazardous areas approved (USA/Canada); (CSA certified)
Multiple inputs/output channels for monitoring and control functions
Up to 95 wireless units per network
Each wireless unit can connect to input/output expansion modules via RS485 multi-drop with up to 10 expansion modules per wireless unit
Sensor signals connected at one module; input signals are transmitted to another module where the signals are re-created as output signals or passed via serial to a host device such as a PLC or SCADA system
Short distance and long distance applications with license-free and licensed products
Multi-hop repeater functions--up to 5 intermediate units can be configured in any input/output link
Four versions available
Any input on any unit can be wirelessly linked to any output on another unit. Inputs can be linked to multiple outputs.
Inputs and outputs can be added via additional serial units
The units can be pre-programmed to consider analog set-points, pulse rate and pulse total, power supply voltage, power supply alarm
Set-point status generated by comparing analog inputs to high and low set-points. Available on AI1 of -1 units, and AI1-4 of -2 units.
Pulse inputs generate a separate pulse count value and a pulse rate value. Pulse rates are treated as internal analog registers with a configurable maximum value.
Wide voltage power supply, with integral UPS battery charger and solar regulator
Power supply generates internal signal values which can be transmitted, low normal supply voltage status, low battery voltage status, and battery voltage (analog)
Multiple communication failure diagnostics with output status. Fail-to-transmit alarm and fail-to-receive alarm status.
Radio receives signal and background RF noise measurement / logging diagnostics
Input measurement display and output "forcing" diagnostics
Communication logging diagnostics
Easy-to-use E-Series Windows configuration software
Catalog Number
Description
Digital Inputs
Digital Outputs
Analog Inputs
Analog Outputs
Pulse Inputs
Pulse Outputs
D2 W MIO-1 900
Wireless Transceiver,
Multiple Inputs & Outputs
4 voltage-free contacts
4 relay contacts
2 4-20mA
2 4-20mA
1 100Hz
1 100Hz
D2 W MIO-2 900
Wireless Transceiver,
Multiple Inputs & Outputs
4 voltage-free contacts
1 field effect transistor
6 0-20mA
0
4 1 x 1KHz, 3 x 100Hz
0 100Hz
D2 W MIO-3 900
Wireless Transceiver,
Multiple Inputs & Outputs
0 voltage-free contacts
8 field effect transistor
0
8 0-20mA
0
4 100Hz
D2 W MIO-4 900
Wireless Transceiver,
Multiple Inputs & Outputs
4-16 voltage-free contacts
4-16 field effect transistor
0
0
4 1 x 1KHz, 3 x 100Hz
4 100Hz
Note: Pulse and digital I/O are the same connection. The D2 W MIO-4 has 4 fixed inputs and 4 fixed outputs and a further 12 which may be configured as input or output combinations.