900 MHz Wireless Gateways
D2 W G
Wireless gateways interface between other Cooper Crouse-Hinds wireless devices and control systems (such as PLCs, DCS, and SCADA). In addition to channeling the wireless network data into one central control system, they can also act as an eight input/output transceiver.
Applications
Wirelessly connect PLCs on a new machine to an existing factory automation system
Interface different automation systems in different sections of a plant
Connect protocol devices into a common wireless network
Cooper Crouse-Hinds wireless units are used to wirelessly transmit signals for PLCs or DCS
Wireless gateways connect to popular process control and automation databuses, and convert signal information to Cooper Crouse-Hinds' proven
WIB™-net
wireless protocol.
Main benefits:
Wireless extension of factory automation, providing a high security firewall. The wireless gateway connects to a databus and transfers I/O values to another wireless gateway unit via WIB™-net communications. The other gateway interfaces to its own databus. Multiple gateway units can communicate in a WIB peer-to-peer network.
There is an efficient wireless protocol conversion in the modules enabling an efficient transfer of data to Modbus
Interface between PLCs, DCS, HMI, or SCADA and Cooper Crouse-Hinds wireless units. The wireless gateway keeps an "image" of the remote wireless network in its memory and interfaces this image to the databus.
Network wireless units and gateways to connect sensor signals and control systems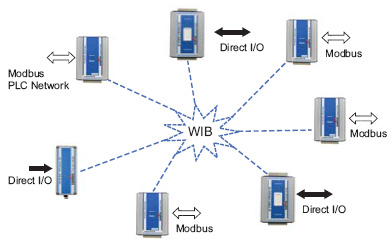 Features
Class I, Division 2 hazardous areas approved (USA/Canada); (CSA certified)
Connects to databus at full bus speed
Can interconnect master-slave, slave-slave and master-master
Provides a peer-to-peer wireless network using WIB™-net
High security data encryption
Automatic acknowledgment and error-correction
Multiple path routing
Eight on-board discrete I/O, individually configurable as input or output
Network configuration is performed with easy-to-use free software
Wide range power supply with integral backup battery-charging feature
| | |
| --- | --- |
| Catalog Number | Description |
| D2 W GMD 900 | Wireless Gateway - Modbus (900 MHz) |
| D2 W GMD 900 | Modbus Master and Slave / DF1 Interface |
| D2 W GPR1 900 | Profibus-DP Slave Interface |
| D2 W GPR2 900 | Profibus-DP Master Interface |
| D2 W GET1 900 | Allen-BradleyEtherNet/IP, Modbus TCP, TCP/IP functions |
| D2 W GDET1 900 | DeviceNet Slave interface |
| D2 W GM1 900 | Modbus Plus Slave interface |