N E M A 12 L a y - I n W i r e w a y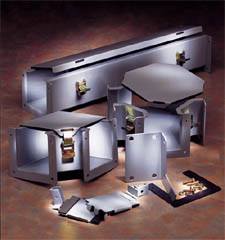 B-Line's Type 12 lay-in wireway is a versatile, easy-to-use cable routing system that speeds installation of wires and cables. Straight sections and fittings can be opened along one side for easy "lay-in" of cables and smooth edges prevent injury or damage to the cables. Quick- release latches provide easy cable access after installation.

A p p l i c a t i o n
Houses runs of control and power cable.

Protects against circulating dust, falling dirt and dripping non-corrosive liquids.

S t a n d a r d s
UL 870 listed

CSA C22.2 No. 26 certified

Conforms to NEMA standard for Type 12

Conforms to JIC standard EGP-1-1967

C o n s t r u c t i o n
Wireway body and cover are fabricated from (14) gauge steel and flanges are (10) gauge steel.

All continuous welded seams are finished smooth.

External and internal edges are rounded to prevent injury or damage to cable.

Covers are secured to the wireway and fitting body with heavy-duty butt hinges and quick-release latches.

Covers have a fixed, oil-resistant gasket.

An oil-resistant gasket is provided for installation between flanges.

All covers and sealing plates can be hinged completely open or removed to allow for continuous "lay-in" cable feed.

F i n i s h
Wash and phosphate undercoat.

ANSI 61 gray polyester powder finish.

Hardware and latches are zinc-plated with a yellow chromate finish.